Occupied Palestine | فلسطين
RTE News | July 14, 2014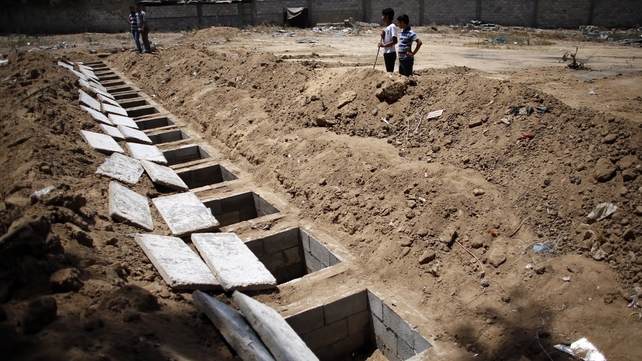 Palestinian children stand next to graves ahead of the funeral of 18 members of al-Batsh family">
Israeli strikes on Gaza have claimed the lives of a man and a woman, raising the overall death toll to 172 with another 1,230 wounded as the campaign entered its seventh day.
Both died of injuries sustained in Israeli air strikes when another eight people were killed.
Israeli strikes killed a 65-year old man in Deir el-Balah, in the southern part of the strip, a 20-year-old in Rafah adjacent to the Egyptian border, and two in Khan Yunis, also in the south.
One strike on the northern town of Jabaliya struck a house, killing a 14-year-old boy, emergency services spokesman Ashraf al-Qudra said.
Shortly afterwards, another strike killed a woman in the Maghazi refugee camp in central Gaza, he said.
A man was killed in a raid on…
View original post 536 more words